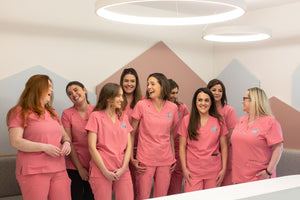 Gemma Ryan
Paediatric Dental Hygienist (RDH)
Tipperary born, Gemma, qualified as a dental nurse in 2005, then went on to do Hygiene in UCC, where she qualified with honours with a diploma in dental hygiene in 2009. Gemma has been in our practice since 2014, and works very closely with Abigail. She strives to ensure that all the children in our practice feel relaxed and comfortable and is an expert at looking after patients who have finished their dental work, preventing further treatment need. Nothing gets past Gemma!!
Brona Evans
Paediatric Dental Hygienist (RDH)
Sligo born, Brona, qualified as a dental nurse in 2014, then went onto UCC to obtain her dental diploma in hygiene in 2020.
Brona works closely with our dentists to ensure that their young patients are expertly educated in oral hygiene & keeping up a good standard of brushing to prevent gum & tooth problems.
Leanne Tyrrell
Senior Dental Nurse & GA co-ordinator (RDN)
Leanne is our Head Clinical Nurse. She qualified as a dental nurse in 2005, after which she worked locally in County Kildare, then travelled the world for a year. She has been Abby's right hand since 2013 in the surgery, ensuring the smooth running of dental visits for our young patients.

Leanne also co-ordinates all the treatment under general anaesthetic, guiding our patients safely through this journey.
Jessica Ennis
Dental Nurse (RDN)
Dublin born, Jess, qualified as a dental nurse in 2015, and obtained her certificate in Oral health in 2019. Jess strives to ensure that our young patients have as smooth as possible experience in our practice.
Jess's passion are enjoying good food and time spent with her 4 Maltese Terriers.

Practice Manager (RDN)
Marianne is our patient care co-ordinator, and qualified as a dental nurse in 1996. She nursed for 7 years for a specialist prosthodontist, where she gained valuable experience, then became a specialised rep for dental Implants for Ireland.

Marianne joined our practice in 2015 and looks after all our new patients, and patient care in general. She is the first team member who every new patient at our practice chats to!!
Receptionist & Dental Nurse
English born, Louise, is our practice receptionist, and is also a qualified dental nurse.
She looks after the day to day running of the practice, and is the first friendly face that you will see when you attend the practice!