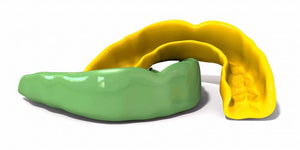 Let's prevent Dental Trauma!!
At Happyteeth we strongly recommend custom-made rubber sportsguards, to protect teeth from damage in contact and ball sports.
Being hit in the mouth by a ball or a person in contact sports such as GAA, rugby, football, & hockey can lead to serious damage to your child's teeth. Teeth can be lost, broken & displaced. Jaws & alveloar bones can be broken.
Specially fitted mouthguards protect against dental injury by cushioning the teeth and gums to help absorb the impact force & avoid damage.
Easy to make
It is so easy to take an impression & can be tagged on to any appointment. We will then deliver the sportsguard a week later, trimming it for extra comfort. We have a huge choice of colours from neon to pearl effect! We can do up to 3 colours - all team colours are covered. We can also add a name & phone number to reduce the predictable pitch side losses.
Dental trauma can be catastrophic to your child's smile & result in years of extensive dental treatment. Investment in a good gumshield encourages your child to comfortably wear their sportsguard & prevent injury.