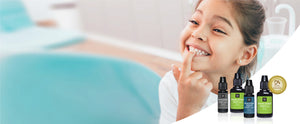 SDF - SILVER DIAMINE FLUORIDE
SILVER DIAMINE FLUORIDE - SDF
Silver Diamine Fluoride is a liquid that can be easily applied to dental cavities to arrest decay.
It is made up of silver & fluoride working together to kill bacteria & harden the damaged tooth structure.
SDF is an affordable, easy, painless procedure & is ideal in some circumstances when restoration is not ideal or possible. It can allow us time while we decide on a final course of treatment.
Indications for SDF
Young children who are unable to cooperate - Easy procedure, painless & no numbing needed
Special needs patients - Minimal distress for children with additional needs who struggle with dentistry
Children with extensive work needed - This can arrest cavities until we can fillings scheduled.
Older Children - If primary teeth are close to falling out fillings can be a poor investment so SDF will stabilise the teeth preventing trouble before they fall out naturally
Disadvantage of SDF
Where SDF is applied to the decayed tooth the area of decay discolours.
This is not a cosmetic issue in back teeth but is is important to be aware of for front teeth