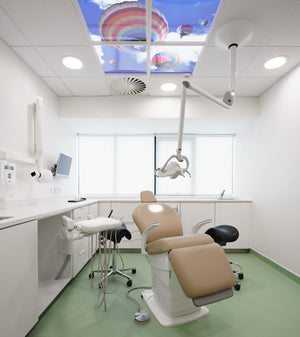 Background
Co. Fermanagh native Abigail qualified as a dentist from Trinity College Dublin. Following a house officer placement in Dublin Dental School & Hospital she worked for 3 years as a general dentist in both Dublin and Australia.
In 2005, Abby decided to pursue her interest in children's dentistry and returned to full time education at Trinity College Dublin, completing a doctorate in paediatric dentistry, graduating with 1st class honours in 2008. Abigail has presented at many national and international conferences, being awarded the IDA Maloney award in 2006 and the BSPD Clinical Case Presentation prize in 2007 for such presentations. She also won The IDA Clinical Feature of the year award 2014/2015.
Abigail has travelled the world extensively and loves experiencing other cultures. As part of her travels she has carried out voluntary dental work in Samoa, Cambodia and Honduras.
Abigail has operated a busy referral based private practice limited to paediatric dentistry at The Hermitage Medical Clinic in Dublin since 2009. She also teaches sessions in clinical paediatric dentistry to Post Graduate Dental students in Dublin Dental School & Hospital, Trinity College Dublin. She is actively involved in teaching, lecturing and frequently travels abroad to ensure up to date skills and techniques to offer her patients.
Abigail has recently opened a new premises in Suite 38 of the Hermitage Medical Clinic which is state of the art, paediatric-specific practice offering the very best environment for our young patients.
Outside work Abby is a busy mum of 3 lively children so understands well the perils of trying to brush little teeth!!
She is a slow but steady runner, loves dipping in the sea & walking her crazy dog Seuss.
Qualifications
D.Ch.Dent. (Paediatric Dentistry):  Trinity College Dublin, Ireland.
MFD: Royal College of Surgeons, Ireland.
BA, B.Dent.Sc.: Trinity College Dublin, Ireland.
Memberships
Irish Dental Association
Irish Dental Council
Irish Society for Dentistry for Children
European Academy of Paediatric Dentistry
International Association of Dental Traumatology
Medical & Dental Consultants Association